MONTREALIO LIETUVIŲ  SLIDINĖJIMO  SAVAITGALIS
MONTREAL LITHUANIAN SKI WEEKEND
Kovo 5-8, 2009   /   March 5-8, 2009
HÔTEL MONTCALM
251, chemin Fusey (off Route 125)
SAINT- DONAT, QUÉBEC
Tel (toll-free): 1-866-424-1333
www.skilareserve.com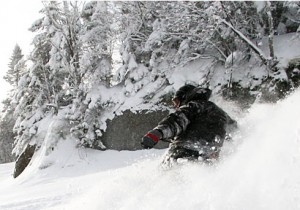 Thursday, March 5, 2008
Arrive in Saint Donat, register, ski and have supper on your own.
Friday, March 6, 2008
Ski at Mont Tremblant! Caravan departs for the north face at
7:45 am from the hotel parking lot. Ski tickets available at a
reduced rate through Rytis at 8:30 am in the chalet on the north
side. Please let us know if you intend to ski with us at Mont Tremblant.
Breakfast at 7:00am.
Supper in the hotel dining room at about 7:00 after a relaxing swim in the
hotel pool or after drinks at the bar.
Saturday, March 7, 2008
Ski at Mont Garceau in Saint Donat. Participate in the ski race
in the morning. Broomball tournament back at the hotel at 4:30.
Breakfast at regular hotel hours
Supper/Linksmavakaris in the hotel dining room at 7:00pm.
Mont Garceau lift ticket, including race: 19$
Please let us know in advance if you want to ski with us.
Arrangements must be made for the tickets.
SATURDAY  SUPPER / LINKSMAVAKARIS ONLY
without a stay at the Hotel  :    Adult: 41.54$  /   Child 12 or under: 12.98$
Sunday, March 8, 2008
Ski at La Réserve for reduced rates (tickets available at the hotel reception), or head home at your leisure.
All skiers and guests are asked to call the hotel and reserve their own rooms with the price package that suits them.
This should be done at least one month in advance. Rooms will not be held for our group after February 1st.   A 50% deposit is required.
Children stay for FREE in their parents' room. They only pay for meals, as indicated in the price list below.
Make sure you specify you are with the LITHUANIAN group to benefit from the group rates. Indicate how many adults and children are in each room. Specify what beds are needed.
HOTEL PACKAGES (including taxes and gratuities)
Children's rates are for those sharing a room with their parents.
Saturday
One night at the hotel
Supper / Linksmavakaris at the hotel
Breakfast Sunday at the hotel
One adult ( single occupancy): 130.19$
One adult (double occupancy): 92.88$
One adult (triple occupancy): 85.30$
Child of 12 to 17: 53.86$
Child of 6-11: 25.40$
Child under 6: FREE
Friday and Saturday
Two nights at the hotel
Supper / Linksmavakaris on Saturday at the hotel
4-course supper on Friday at the hotel
Breakfast Saturday and Sunday at the hotel
One adult (single occupancy):260.39$
One adult (double occupancy):185.78$
One adult (triple occupancy): 170.61$
Child of 12 to 17: 107.73$ (regular menu)
Child of 6-11: 50.79$ (child's menu)
Child under 6: FREE
Thursday, Friday and Saturday
Three nights at the hotel
Supper/Linksmavakaris on Saturday at the hotel
4-course supper on Friday at the hotel
Breakfast on Friday, Saturday and Sunday at the hotel
One adult ( single occupancy): 349.04$
One adult (double occupancy):237.13$
One adult (triple occupancy): 216.64$
Child of 12-17: 120.06$ (regular menu)
Child of 6-11: 76.19$ (child's menu)
Child under 6: FREE
For more information / Jei kas nors neaišku, galite kreiptis pas organizatorius:
Rytis ir Vilija Bulotos: (514) 344-8256  ar  (514) 946-7639  (cell)
E-mail : viliabulota@hotmail.com ar  bulota.rytis@gmail.com