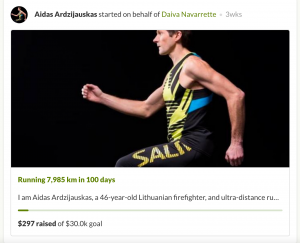 FUNDRAISER — Please Donate by clicking this link
I am Aidas Ardzijauskas, a 46-year-old Lithuanian firefighter, and ultra-distance runner.
I am raising money to meet 2017 ULTRA challenge: 

Running 7,985 km  in 100 days from Dakar to Vilnius

80km per day for 100 days
Money would be used for the plane tickets, travel documents, visas, registration fees, accommodation, food and transportation.
I would be very thankful for your contribution to the fulfillment of my dream.
My story of running began with a childhood trauma, and running was a strengthening practice for my body. After a silly jump, I broke my feet, fractured my legs and twisted my spine; the world turned upside down for me. As I learned how to walk again, I was continuously turned down by coaches for sports since I was too weak. Running helped strengthen me and lift me from my lowest physical and psychological condition as a child. I wanted to run more and more, and soon it became a lifestyle, in turn, I also chose an active career, a firefighter.
I have been running for 36 years and firefighting for 22, and I don't plan on stopping. I have run more than 85 000 kilometers (1980-2016). Running is my hobby and passion for which I am also grateful to my family which supports me in every way.