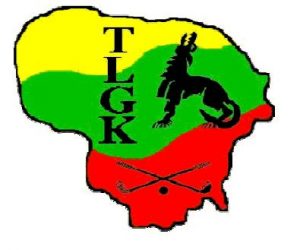 TOURNAMENT INFORMATION & RULES
Hosted by the Toronto Lithuanian Golf Club (TLGK)
September 1 & 2, 2018
Eagle Crest Golf Club, Ypsilanti MI
Marriott Ann Arbor Ypsilanti at Eagle Crest, Ypsilanti MI
USA
ORGANIZATION
Toronto Lithuanian Golf Club (TLGK)
President – Steve Podsadecki, skubie44@hotmail.com
Treasurer – Yolanda Tomasic, tomasic@rogers.com
GOLF COURSE
Eagle Crest Golf Club, 1275 Huron Street, Ypsilanti MI, 48197
Pro Shop Tel: (734) 487-2441, Website: www.eaglecrestresort.com
Green fees (Sat–Sun) are $60 + tax including shared power cart
Practice rounds offered for $53 (golf and cart only) to be booked directly with the golf course (must mention
'SALFASS Golf Outing')
Note all green fees to be paid locally at the club house
HOTEL
Marriott Ann Arbor Ypsilanti at Eagle Crest, 1275 Huron Street, Ypsilanti MI, 48197
Hotel Tel: (734) 487-2000, Toll Free: 1-877-757-7133 or 1-800-228-9290
Website: http://www.marriott.com/hotels/travel/dtwys-ann-arbor-marriott-ypsilanti-at-eagle-crest/
Block of rooms on hold at special tournament rate of $164/night + tax including breakfast for two until July
29, 2018. After this date, rack rate applies if any rooms are still available. Reservations based on 'first-comefirst-
served' – book your room early to take advantage of the special tournament rate. When reserving your
room(s), please mention 'SALFASS Golf Outing'.
HOSPITALITY SUITE
Registration will be held in a private Hospitality Suite at the hotel commencing at 5:00pm on Friday.
Food and beverages (both alcohol and non-alcohol) will be served.
Players may enter for the skills and skins competitions at this time (if not done with registration).
Private Hospitality Suite will also be available for SALFASS participants from 3:00pm-11:00pm on Saturday.
SPECIALTY COMPETITION
There will be chipping and putting contests starting around 30 minutes after the completion of the Saturday
round at the practice green, both chipping and putting $5 each. All money collected will be paid out as prize
money. The skins game is $10 per day. You can sign up with your registration (preferred) or when you check
in. The skins game will be a modified NET scoring, utilizing approximately 2/3rds of your handicap. The cut off
for signing up for the skins game is Friday 10:00pm at the Hospitality Room. All the money collected will be
paid out as prize money.
Skins will be awarded for each day based on the following categories:
Men's Masters, A, B – for handicaps up to 20.9
Men's C, D – handicaps 21.0 to 36.4
Women's A, B
COMPETITION
This year's competition will be a Ryder Cup Format. Contestants will be divided into 4 teams, representing the
following Lithuanian cities: Vilnius (Yellow), Kaunas (Green), Palanga (Blue) and Utena (Red)
This is a two day team competition with the winning team having the most points. Teams will be identified
and posted 4-5 days prior to the event.
PLAYERS ARE ENCOURAGED TO WEAR SHIRTS MATCHING THEIR TEAM COLORS.
2 person best ball NET match play – each match is worth a possible 6 points with 2 points for the first nine, 2
points for the back nine and 2 points for the total (all 18 holes).
We will play "no touch" with the exception of your own fairway and no concessions ("gimmies") are allowed
and must be holed out. Handicap strokes will be given as stated on the scorecard. Be careful to note that
women's handicap holes are different than men's handicap holes. Also the maximum score on any hole is 10,
unless you are getting a stroke, then the max is 11 (if you are getting two strokes then your max is 12). Please
pick up after that has been reached.
Sat, Sep 1 = shotgun start at 8:00am
Sun, Sep 2 = tee times starting at 8:00am
CLASSES
Masters 0 -7.9
Men's A 8.0 – 14.9
Men's B 15.0 – 20.9
Men's C 21.0 – 26.9
Men' D 27.0 – 36.4
Women's A 0 – 36
Women's B 36 – 40
Junior's A 14 – 18 (yrs)
Junior's B 13 and under
Senior's A 60 – 69 (yrs)
Senior's B 70 and above
AWARDS
The 1st and 2nd place Ryder Cup Teams will receive a cash award
AWARDS BANQUET
At the course following Sunday's game, cash bar in the Garden Marquee.
Prices – $60 per Adult (13 and above); $25 for Ages 4 – 12; free for kids under 4
REGISTRATION AND INFO:
Download Registration Form  — Click Here