Lithuanian Easter in Washington, DC – with basketball diplomacy
Laurynas-Larry R. Misevičius (Chair of the Board – LAUNA)
10th traditional international basketball tournament, organized by the Lithuanian Embassy in DC as well as Lithuanian Athletic Union of North America took place in the nation's capital Easter weekend (March 31-st, 2013)
It was back in the Spring of 2003 when the already rich Lithuanian basketball history opened up another fresh page…the then Ambassador of our Baltic Nation to U.S.A. and Mexico H.E. Vygaudas Ušackas called upon the local Lithuanian American Community chapter sports actyvists to start a new tournament, dedicated to March 11-th, 1990 – Lithuania's Independence Restoration. Later on he named this project as "basketball diplomacy", soon this phrase becoming legendary. It appeared to be a huge success right off the bat, as the time went by, this basketball meet-up turned into an international competition, other Embassies from the Eastern and Middle Europe sent their teams to participate alongside the State Department. Ambassadors changed, but the tradition went on – a few years back our biggest amateur sports organization in the exile Lithuanian Athletic Union of North America joined the Baltic country's diplomats in co-sponsoring "Ambassador's Cup" in Washington, DC. As we all know, in 2013 Lithuanians everywhere commemorate 80-th anniversary of the first Transatlantic flight, executed by our national heros Steponas Darius and Stasys Girėnas. "In their speech before the flight, the pilots declared that the flight was to enhance the spirit of the sons of Lithuania by inspiring them to new journeys. It is symbolic that during all this eighty years' period, apart from the memories of the legendary flight, one of our nation's most important sources of inspiration and spiritual strength is basketball. Even more symbolic is that Steponas Darius is considered a pioneer of Lithuanian basketball, " co-organizers of this year's basketball tournament Mr. Artūras Vazbys said, naming it "Lituanica 80 Cup".10 teams competed in the championship, organized by the diplomats for the 10th time, including the American and Canadian Lithuanian teams from Washington (DC), New York, Toronto, Baltimore, Philadelphia and NJ. The staff of the Lithuanian Embassy together with the diplomats from the Latvian and Estonian embassies united to form a team of "Baltic Unity". There was a team of the US State Department representatives, too.
The winners of the 'Lituanica 80 basketball Cup' tournament were New York's "Geležinis vikas" ("Iron Wolf") – team that, after a very dramatic finish and overtime came out on top of Toronto's "Aušra" ("Dawn") 40:34, third place was taken by Baltimore's "Partizanai" ("Guerillas"), who beat the only American team – Dept. of State by just one bucket 48:46.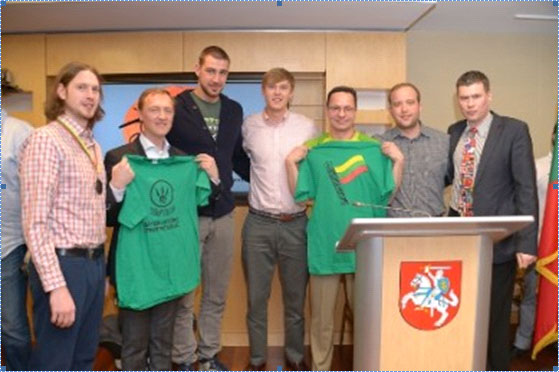 Photo by Ludo Segers
The NBA and the Lithuanian national basketball team player Jonas Valančiūnas joined everyone at the "Lituanica 80 Cup" finals in the Columbia Heights Educational campus as he arrived to play against the local "Wizards" together with Toronto "Raptors" on Easter Day at the "Verizon Center". Jonas supported his Canadian hometown's "Aušra's" rally against a bit stronger NY team wildly and even received a technical foul from one of the Lithuanian referees Vidmantas Petraitis. After the tournament, the Lithuanian Embassy hosted an awards ceremony, which was attended by J. Valančiūnas who, together with the ambassador Žygimantas Pavilionis as well as LAUNA's chairman Laurynas R. Misevičius, presented trophies and medals, manufactured by the Lithuanian Basketball Federation to the best players of the tournament. As we're eagerly awaiting next year's "Ambassador's Cup", most of the American and Canadian Lithuanians, near and dear to the athletics, are getting ready to visit Klaipėda – Lithuania for the IX-th World Lithuanian Games, a greatest festival, run every 4 years as an amateur competition in about 30 different sports. If anyone's looking for more information about this fantastic get-together June 27-30-th at the Baltic seashore, would you please kindly go onto Lithuanian Athletic Union's website www.launa.org or contact Laurynas-Larry Misevičius by phone No. 203-895-7147 or e-mail rytupakrante@yahoo.com.